For video capture and streaming
High quality audio & video capture
Magewell's award-winning video capture solutions have become the preferred choice of end users, integrators and OEM partners by delivering an unmatched combination of performance, reliability and value. Available with flexible interface choices to suit any application, they support popular operating systems and offer extensive compatibility with third-party software for production, web conferencing, recording, streaming continuous and presentation.
A complete choice of cards : SDI, HDMI, DVI, ...
Pro Capture HDMI
Pro Capture Dual HDMI
Pro Capture Dual HDMI 4KPlus LT
Pro Capture HDMI 4K
Pro Capture HDMI 4K Plus
Pro Capture HDMI 4K Plus LTT
Pro Capture Quad HDMI
Pro Capture SDI
Pro Capture Dual SDI
Pro Capture Quad SDI
Pro Capture SDI 4K Plus
Pro Capture Dual SDI 4K Plus
Pro Capture AIO
Pro Capture AIO 4K
Pro Capture AIO 4K Plus
Pro Capture DVI
Pro Capture DVI 4K
Pro Capture Dual DVI
Pro Capture Hexa
USB Capture HDMI Gen2
USB Capture SDI Gen2
USB Capture AIO
USB Capture HDMI Plus
USB Capture HDMI 4K Plus
USB Capture SDI Plus
USB Capture SDI 4K Plus
USB Capture DVI Plus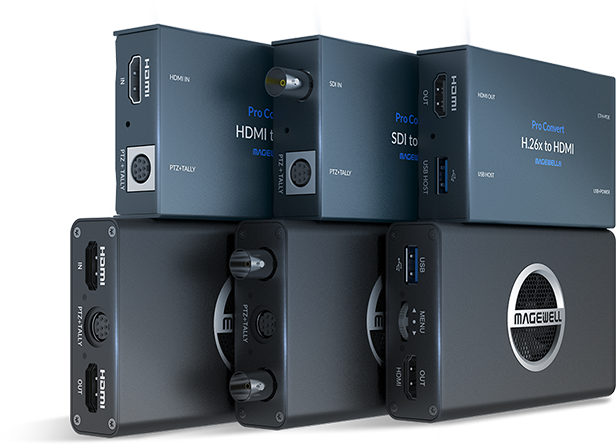 While some new products support NDI directly, many customers want to keep their current equipment with NDI-enabled software and systems. Pro Convert encoders make it easy to connect existing sources such as cameras and production solutions into NDI-enabled network video workflows. Pro Convert decoders support both dedicated IP video protocols and universal streaming protocols including NDI®, SRT (Secure Reliable Transport), RTMP, RTSP, RTP, UDP, HTTP, and HLS, enabling conversion from high quality Full NDI, NDI|HX , H.264 (AVC) or H.265 (HEVC) to high quality HDMI or SDI outputs.
Make live streaming easy for everyone.​
Stream and record in one click with Ultra Stream HDMI and Ultra Stream SDI
Ultra Encode Universal HDMI/SDI Live Media Encoders offer system integrators, streaming professionals and OEM partners a flexible and affordable encoding solution for applications such as live streaming, audio/video over IP , remote contribution, IP production workflows and more.
They support high quality H.264, H.265 (HEVC) and NDI®|HX encoding and multiple streaming protocols with wired or wireless network connectivity.
USB Fusion is a multi-input USB video capture device with integrated source switching and layout control. 
Offering two HDMI inputs and one USB webcam input, USB Fusion can switch between sources or combine two inputs simultaneously into one output (picture-in-picture or side-by-side) for capturing into popular software via its USB 3.0 interface.